This site contains affiliate links to products. I may receive a commission for purchases made through these links at no extra cost to you.
Crafts for Kids: Origami Heart Rings are a fun craft at a beginner/intermediate level. Just grab some paper, scissors, and tape. Kids can make these by the dozens and give them away as inexpensive BFF rings. They can also sell them as they are are not only cute but fashionable.
Supplies needed:
Paper (choose one): index cards, origami paper, construction paper, or printer paper
Tape
Scissors
Steps to make your own origami heart ring:
First, fold a square of paper in half, then unfold. Use a 2 1/2 x 2 1/2 inch paper for kids under 7. For kids ages 7-12 use 4×4 inch. 13+ use 5×5-6×6 inch.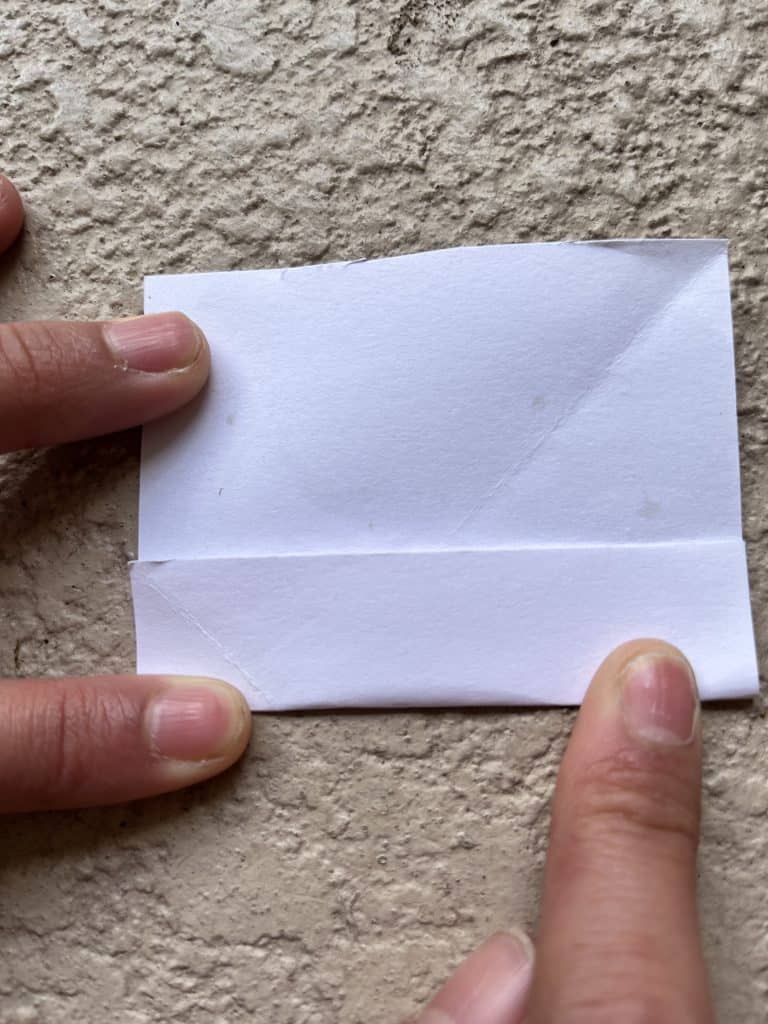 Fold the upper and lower edges to meet the crease. Now unfold it again.
Now you have the paper creased into quarters. Fold and unfold the upper and lower edges to the first quarter crease on each side. Then, fold and unfold the upper and lower edges to the opposite quarter crease.
Turn over and fold down one eighth strip along the top.
Flip over paper and fold and unfold in half. Then, fold both upper corners down to lie along the vertical center line.
Turn over paper again and fold down the top point to the third crease.
Push upward and outward on the vertical folded edge of the inner border, sliding outwards until it lies along the upper horizontal edge behind. Do this to both sides.
Fold the flaps down once more, bringing the short edges along the top to lie along the vertical center line.
Fold up a one eighth strip at the bottom.
Double this edge over three more times. The horizontal band formed will be quite thick now.
Take hold of each end of the horizontal strip and gently curve away from the heart. Next, interlock the two ends (you might need a thin strip of tape at this point). Then, place on your finger.
Ways to use your origami heart rings:
Make a bunch and sell at a school sale or just sell around the neighborhood/apartment building.
Make two or three and give to your closest friend(s) instead of expensive BFF necklaces/bracelets.
Give to family members.
Put in birthday goody bags.
See my other crafty ideas:
Homemade Dot-To-Dot Pictures for Kids